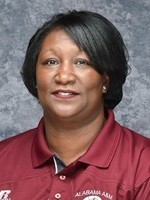 Rose Powell is entering her fifth season as head coach of the Lady Bulldogs.
Last season, the Lady Bulldogs were 14-20 overall and 14-4 in the Southwestern Athletic Conference. In her first season (2014), she guided a young A&M squad to a 12-18 overall mark in 2014 and 5-3 in the SWAC.
Before coming to The Hill, she coached at Martin Methodist College in Pulaski, Tenn., compiling a 373-305 overall record. In February of this year, she was inducted into the Martin Methodist College Sports Hall of Fame.
A native of Big Springs, Texas, she attended the University of Houston, earning awards such as Most Improved, Best Spiker, and Most Valuable Player of the Southwest Conference. She was a member of the 1984 U.S. Olympic volleyball team winning the silver medal, the highest finishing women's team in U.S. Olympic history.
Powell, having one of the finest volleyball careers in American history, has applied her magic to local schools, camps, and collegiate programs.
Following her collegiate stint, Rose played for two years on the U.S. national team. During those two years, Rose helped the team win a silver medal at the Super Three Tournament (China, Japan and USA), a gold medal at the Pan American Games, a bronze medal at the World Championships, and a gold medal at the NORCECA Games.
She played nine years (1984-1993) in Japan as a professional player/coach. During this time, she was a three-time MVP, six-time Best Spiker, one-time Best Blocker, and six-time Most Point Maker in the league.
Before accepting the head coaching position at Martin Methodist, she coached at Lee High School in Huntsville for four years. While there, she compiled a record of 108-50 and was ranked in the top 10 among volleyball coaches in the state.
"I am honored to have been given the opportunity to lead a well-respected and proven volleyball program like Alabama A&M," Powell said.
"I would like to thank (Director of Athletics) Mr. (Bryan) Hicks for trusting me and believing in the vision and philosophy that I will bring to the program. As anyone around here knows, the passion and history of volleyball in this area is the best in the country. To be a part of it is truly special."
In her first year at Martin Methodist, she was voted by her peers as the 1996 TranSouth Conference Coach of the Year.
During the 2005 season she guided her team to the school's first-ever volleyball TransSouth Conference Regular Season and Tournament Championships and first NAIA Region XI Final. She also had two players selected as NAIA All-Americans.
In recognition of her brilliant volleyball career, in 2007 Rose was honored as the recipient of the most prestigious award available to volleyball players. She was named to the All-Time Great Volleyball Player Award – an award that has been bestowed upon fewer than 100 players, both men and women.
She and her husband, Harry, have two sons, William and Brandon.